Active Ingredients
Production of high-yield natural cosmetics with highly effective cosmetic raw materials
PolyNeo processes natural and high-quality raw materials into high-yield active ingredients. In doing so, it develops innovative technologies and follows the latest trends with the aim of developing resource-conserving, high-yield substances. A fair price-performance ratio is achieved through efficient formulations. Highly effective cosmetic products can be produced with the lowest concentrations of the active ingredients. This results in maximum cost efficiency. PolyNeo is your trusted and experienced partner in the development and production of cosmetic products.
The high yield of the products contributes to environmental protection and resource conservation. Start-ups and cosmetics manufacturers can also benefit from PolyNeo's expertise on utilisation technologies and access to international markets. The company also offers low purchase volumes and high-volume series production.
NEOSILK Collagen
Continuous innovation is required due to changing consumer needs and new legislative requirements for the efficacy, safety and tolerability of cosmetics.
NEOSILK, a novel and safe type 1 collagen sourced from silk cocoons, is available to cosmetic manufacturers. This delicate and novel technology is used to produce pure collagen that is homogeneous with human collagen. It is the most abundant protein in the human body – connective tissue alone consists of 60 per cent collagen.
The innovative production process through which collagen is extracted from silk cocoons was first presented to the public by Japanese scientists in 2002. PolyNeo GmbH from Frankfurt/Main has the exclusive distribution rights.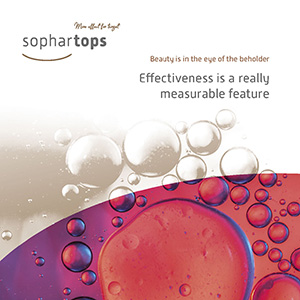 Sophartops
The cellular changes responsible for the skin's ageing process mainly occur in the deep layers of the skin.Cosmetic active ingredients must penetrate these skin layers in order to take full effect.
SopharTops, an ingredient carrier, is incorporated into the innovative nanoemulsions HydroTops and LipoTops, noticeably improving the transport of active ingredients into deeper skin layers.
SopharTops is a multiple nanoemulsion that has been proven to deliver more effective results as an ingredient carrier due to a better polydispersity index (PDI) and homogeneous size distribution. The skin-friendly emulsion is based on natural active ingredients and is free of genetically modified organisms (GMOs).